WEBSITE SERVICES THAT GET'S MORE BUSINESS
Website design services in Citrus County Florida – Web Developers Since 2004
Websites design services done the right way.
Our website design services in Citrus County Florida are engineered to set you apart from the competition drive traffic and sales. Suite 171 web design company located in Inverness, Fl, where we design websites engineered to drive sales that make your business stand out. Whether you're a startup looking to make your mark or an established business looking to revamp your online presence, we've got you covered. Our expert web design team specialize in creating visually stunning websites that are not only easy on the eyes but also search engine optimized to drive traffic. From concept to launch, we work closely with you to understand your business's unique goals and develop a website that reflects your brand's personality. So if you're ready to elevate your business to the next level, let's create a website that sets you apart from the rest.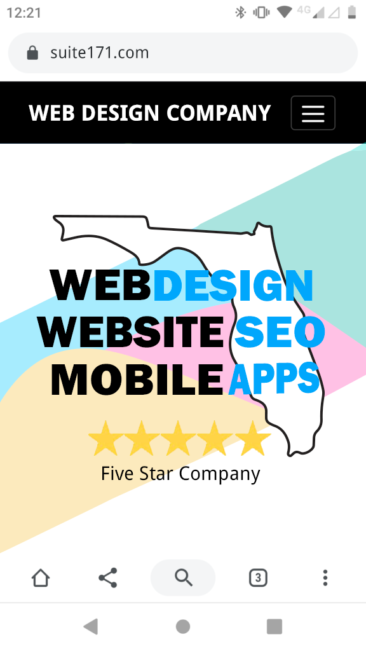 We will help you implement the most effective website design services for your business goals.
We collaborate with our clients to craft desktop, browser, and mobile-friendly web design experiences that help them increase their brand awareness, communicate, and engage with their customers in exciting new ways. Our website design & SEO services connect you with your customers. Get a Website design estimate today.
Website Design Services We Offer
Allow our company to build a custom website design to fit your business's goals and needs with our expert web design team. Our Website design that unlocks the power to promote your business online. It's time to increase your brand visibility. We provide a unique blend of strategy, design, and engineering for a better user experience. Get in touch – it's that simple.
Custom Website Design
E-commerce Website Design
WordPress Website Design
Progressive Web App (PWA) Websites
Frequently asked questions about WordPress website design. Get answers here.
People also ask.
Prices can vary depending on several factors including the web site's style, size, and functionality features. Every business is unique so the price is based on how much work is involved to build it. On average our sites run in the $1800 – $5,000 price range but can be more or less depending on your goals and requirements.
On average a small business website might take three to four weeks depending on how much work is involved to build it. Some advanced website might take double the time but again it depends on the the website's style, size, and functionality features.
Yes, some websites take more than a set it and forget it approach. All websites will require updates, maintenance, security, and ongoing web maintenance or edits.
If you are selecting the "optional" cost it's monthly at that rate or each instance at our normal rates. Costs might include:
Managed or Unmanaged Web Hosting
Website Maintenance or Editing. Optional at $47/mo
Technical Support or Server Maintenance. Optional at $47/mo
SSL Certificate. est. Required at $75/yr
Security Backups, or Features. Optional at $47/mo
Chances are you probably have the following items and we will need them from you to get started and have a successful project. This is a quick checklist.
Business Logo – We will need it in a .ai print ready format.
10-15 good quality photos or images.
Quality content. Each page should have 300-400 words of text.
A registered business Domain Name
Examples of what you like: URLs
A completed web contract "The paperwork" we will send it.
The easiest way to contact us is by e-mail. We're here to help as much as you need and get back to you within 24/hrs during normal business hours Mon-Fri. We've been in business for 14/years and counting. We aren't going anywhere!
We also have monthly support packages that cover monthly editing, backups, security, managed hosting, and more. If you have any questions please feel free to ask.
- E Tofte
I am very pleased with my decision to work with Suite 171. The results have exceeded my expectations. If you are looking for a professional team that truly listens to your goals and delivers results, look no further! Suite 171 has my business for years to come!
- M Zachrison
Suite 171 has been a very important key to our success. The design work and marketing implementation of Tony's team took our company's presence on the web to a superior position over our competitors. There is no doubt in my mind that without their guidance we would not have achieved the successes we have! If I could add an additional star to the rating I would. Good job Suite 171!
- K Grubb
"Very responsive and answered all of our questions in a timely manner. Suite 171 worked with us to develop a professional website in a short amount of time."
- N Larson
"I have worked with Suite171 several times over the years. Excellent service, creative, create great web pages that prove with results. Strongly recommend! Great Job Guys!"
- S Anderson
Suite 171 has been great to work with. From getting back to me so quickly, finishing the project in a timely fashion, creating a great website, and being incredibly patient with someone who is not the most computer literate person, he really exceeded my expectations. His friendliness allowed me to feel comfortable enough to ask the most basic questions. I would definitely refer friends, relatives, or anybody who needs help designing a website to Tony and Suite 171.
- Dr. Sumra
"Great service. Great people. Recommend it to anyone for developing a business site without any hesitation."
- J Weiser
Suite 171 is a great web design business if your looking for a creative and functional website as well as excellent customer care. I've known these fine folks for a while, 10 years+ and can't say enough positive and professional things about Suite 171.
- V Mund
Suite 171 is a great company all around! They really know what they are doing and are very creative. They really take into consideration all your needs. Keep up the great work!!
- R Martenson
We've been customers of Suite 171 for seven years. They do high-quality work, are immediately responsive on the very rare occasions when things break down and are all around great to work with. They have my highest recommendation.
- Dr J Petermeier
Once again, it was wonderful working with Tony during a redesign of my website. I wouldn't choose anyone else to do this for me. Thanks for all your help and time to redo and make the website designed just for ME!
- M Benoit
Great company. They are a very creative group that really understands how to work with small businesses to achieve results.